Since Governor Ron DeSantis took office in 2019, rents across the state of Florida have increased by 40% compared to 25% nationally, according to data from Apartment List. This should come as no surprise when looking at who has been funding the Governor's political ambitions. Those in the real estate industry, defined in this DeSantis Watch analysis of state campaign finance records as those self-identifying as employed in occupations of real estate, developer, homebuilder, realtor, or property manager/management, have consistently ponied up with donations as Florida's housing market slipped further into crisis.
This analysis examines donations to Friends of Ron DeSantis since the Governor declared his campaign in 2018, as well as donations to the Republican Party of Florida since January 1, 2019, days before he was sworn into office. During these time periods, Governor DeSantis and the Republican Party of Florida have accepted over $18 million in contributions from the real estate industry in contributions of $5,000 or more. Since January of 2021, as Florida has become the "least affordable place to live in the US," political giving by those in the real estate industry has skyrocketed along with rent prices, with the total donations since DeSantis' inauguration now averaging over $12,000 a day.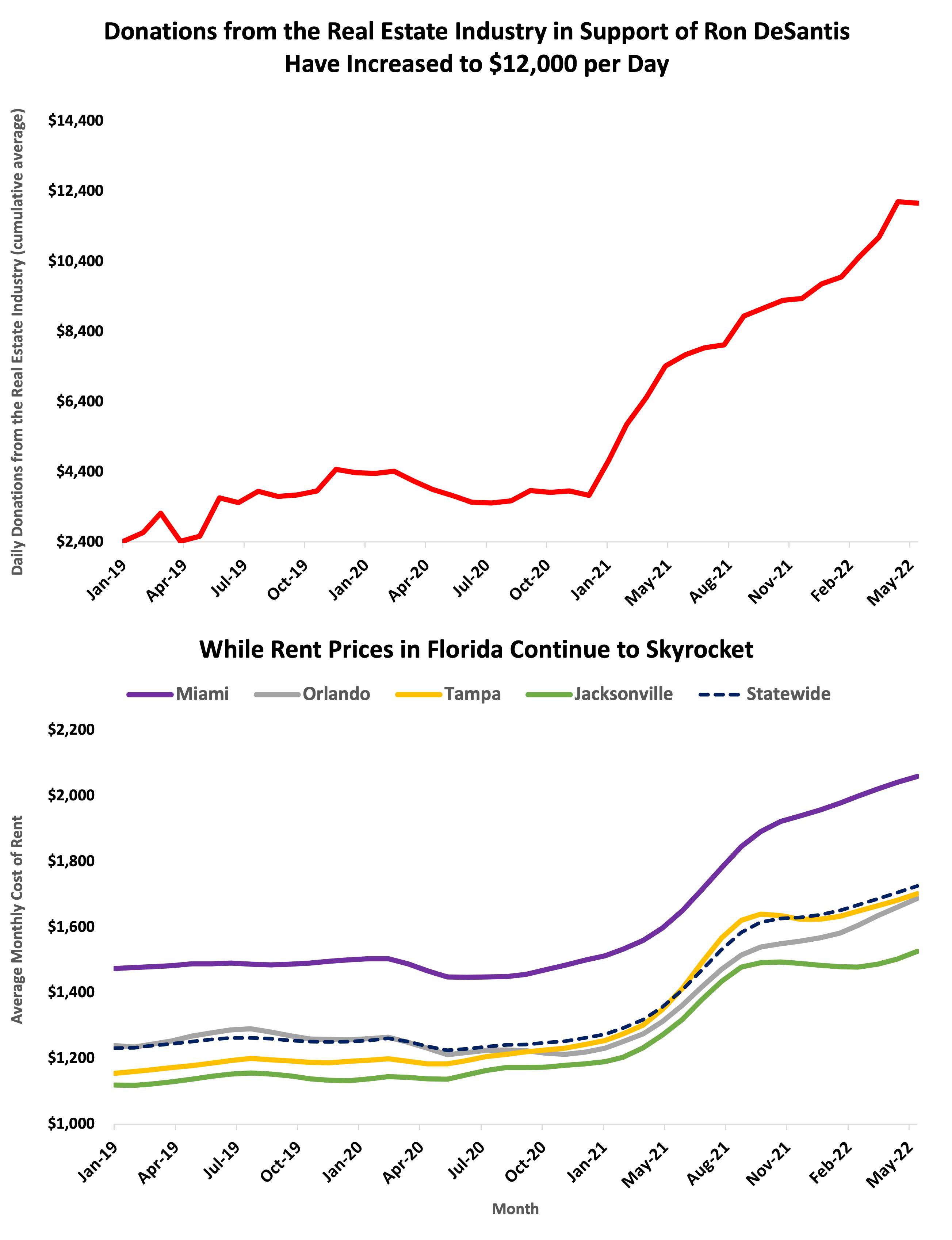 Digging into the numbers reveals other interesting data points.
Nearly one-in-five donations have come from out-of-state donors.
6% of donations have come from realtors, over $1 million of which is from the Realtors PAC Florida.
28% of donations have come from developers ($5 million).
Donations to DeSantis' campaign from the real estate industry are growing.
DeSantis has raised more money this year already than in all of 2018, 2019, and 2020 combined.
DeSantis has also already received more than double the amount in donations from the real estate industry in July than he did in June.
Big developers and other large money donors are fueling DeSantis' campaign.
Those contributing $250,000 or more make up only 2% of real estate donors but account for over a quarter of donations from the real estate industry.
Why is the real estate industry investing so much in Governor Ron DeSantis? As mega-developer and $365,000 donor Pat Neal put it, because "we are all making a lot of money."
"Every Floridian who works hard and does the right thing for their family deserves the freedom of a roof over their head, but Ron DeSantis remains focused solely on what's best for his political career," said DeSantis Watch Communications Director Anders Croy. "Rather than taking real action to combat the housing crisis in Florida, the Governor has done nothing but make excuses and divert blame in order to allow his corporate donors to continue to rake in massive profits. While your rent continues to skyrocket, make no mistake that Governor Ron DeSantis does not care as long as the campaign contributions keep rolling in."
Data used to compile this analysis can be provided upon request.