Later today, Governor Ron DeSantis will leave the state of Florida to sell his book to the constituents he actually cares about: right-wing presidential primary voters and wealthy donors throughout the nation. While Floridians continue to be crushed under a growing affordability crisis, Ron will hawk his "politician's memoir churned out by ChatGPT" at fundraisers in Texas, California, and Alabama.
In order to properly introduce Florida's Governor during this tour, DeSantis Watch will be geofencing a one mile radius around the venues hosting these events with digital display ads highlighting what Ron's actual blueprint for the country would be should he fulfill his relentless political ambitions.
On March 3, attendees at the Harris County GOP fundraiser will be educated on Ron's support for cutting $473 billion from Medicare.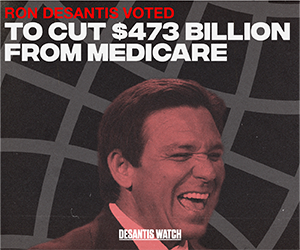 On March 4, dinner guests at the Dallas County Republican Party fundraiser will learn about how Ron voted to raise the retirement age to 70.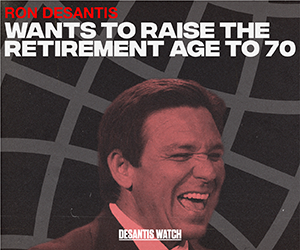 On March 5, those in Southern California hearing Ron speak at the Reagan Library will find out about how unlike the venue's namesake, the Governor is weak on freedom at home and abroad following his recent flip-flop on aid for Ukraine and banning of books in Florida.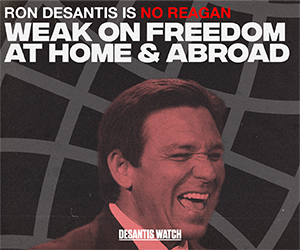 On March 9, folks gathering to hear Ron speak at the Alabama Republican Party will hear about how his fake populism as he serves the billionaires and corporate elites leads to higher costs at the expense of everyday people.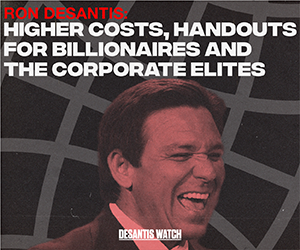 "As Ron DeSantis once again leaves Floridians behind to advance his own political ambitions, DeSantis Watch is proud to help introduce his out-of-touch and extreme record to a wider audience," said DeSantis Watch Communications Director Anders Croy. "There is no greater threat to our freedoms than Ron DeSantis, a fake populist whose subservience to billionaires and the corporate elites will mean higher costs for you, cuts to Medicare and a shorter retirement with your family, and weakness in the face of Putin's aggression in Ukraine. That's Ron DeSantis' real blueprint for America."